Beginners digital marketing for the business owner - ABF
Date
20th January 2020
//
Author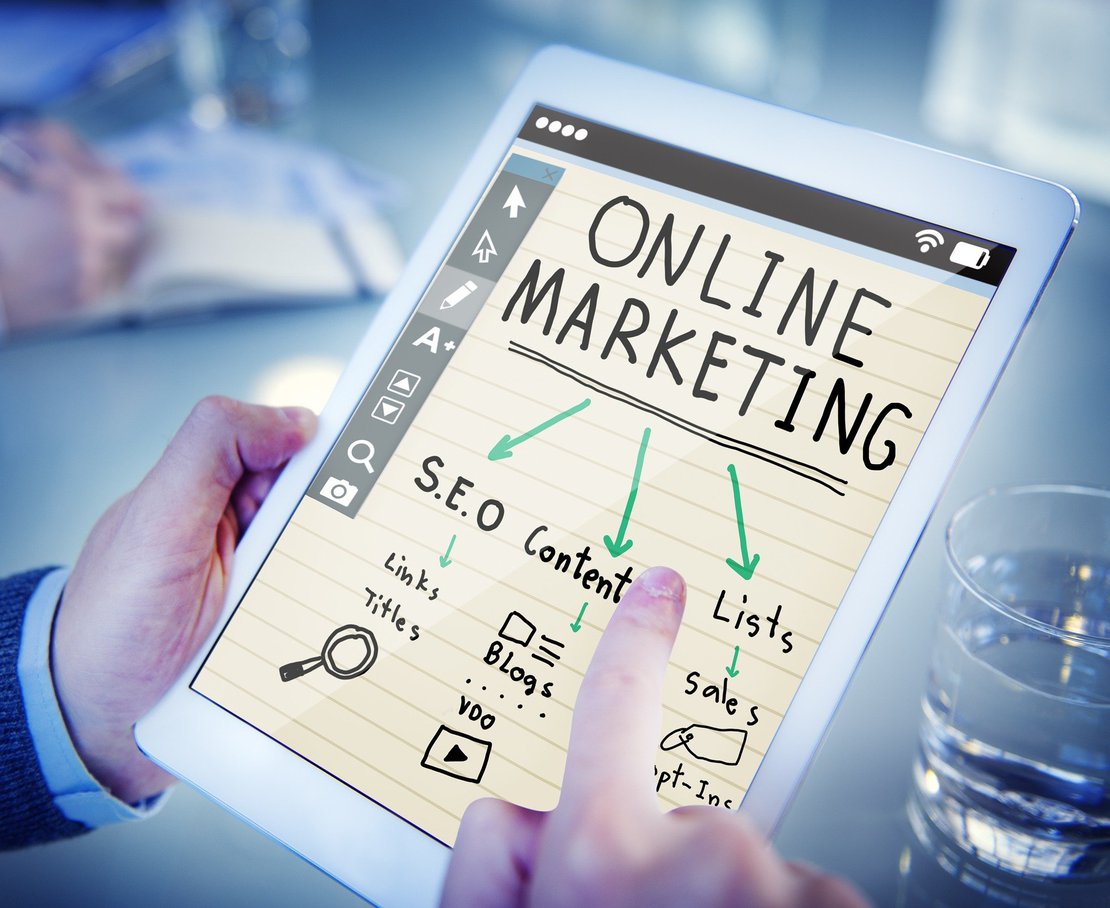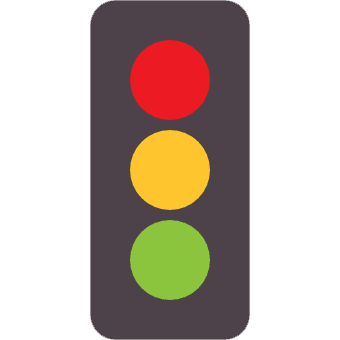 Find your business
funding
A beginners guide to digital marketing strategy for the small business owner. Read on for an introduction to all things digital marketing from ABF
A beginners guide to digital marketing for my business
The world of digital marketing can seem like another language to a small business owner.  You understand what you do, your own services, your products, and your operation.   However, when you think about digital marketing you see phrases such as SEO, content strategy, SMO, data analytics, conversion rate optimisation, and many more that conjure up images of "geeks only" jobs that could never be attempted by anyone but an experienced person.  
Well, some of this is true, but that's not to say that some digital skills can't be learned and performed relatively simply by the business owner themselves.  In this post ABF will provide a beginner's guide to digital marketing strategies that you can carry out yourself.  
We'll explain some of the harder tasks to complete yourself and assist you in knowing what to ask for and understand in case you do need to outsource some of the strategies to a professional.  As always, if you need to fund any of these strategies, you're definitely in the right place with our business finance comparison service - Funder Finder
Read on for your introduction to the world of digital marketing strategy!
How to start an SEO campaign for my business
SEO (as you're probably aware) stands for Search Engine Optimisation.  In basic terms it is the process of getting the most traffic possible from search engines via optimising how Google places your site within its search engine.  
The traffic you get from the different positions in the SERP's (Search Engine Results Pages) is obviously more, depending on how high your site is placed on the first page.  This is purely down to human nature and the need for a user to want to find information on their chosen search, as quickly as possible, ie as close to the top of the page, without needing to scroll down further.
To give you a rough estimate, you get the following distribution of traffic:
Position 1 gets around 32% of all traffic for that phrase
Position 2 gets around 25% of all traffic for that phrase
Position 3 gets around 19% of all traffic for that phrase
And so on and so forth…
A good visualisation of this is here: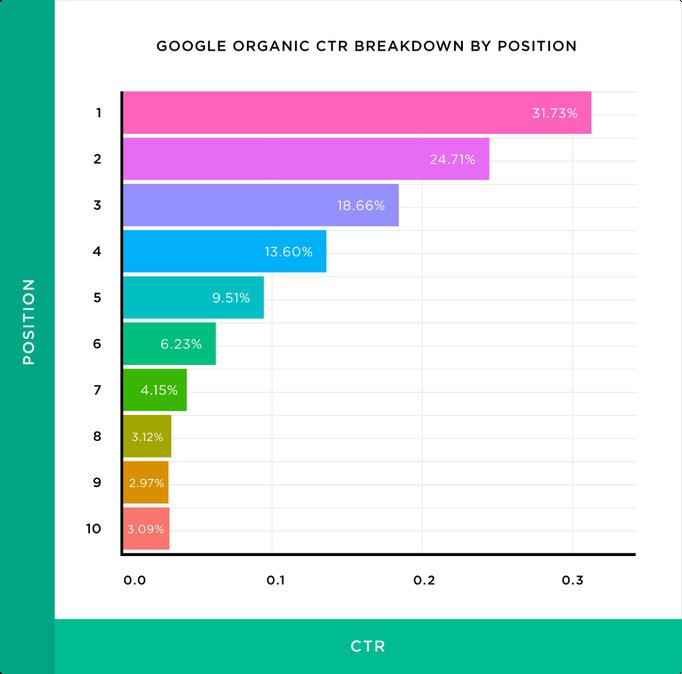 Image credit - Backlinko
Therefore, to get the most traffic for your particular search phrase, it is important to be listed as high as possible.  This is where SEO comes in.  
Google will always want to place the most relevant and most authoritative result for any given search query so it's important that your page displays these signals when Google crawls it.  The more of these signals, or ranking factors that you have, the higher the position in the SERP's.
The exact ranking factors aren't published anywhere, however thanks to constant research and experiments carried out by SEO agencies and some of the best people in the SEO industry (Moz, SEL, SEO Round Table etc) we have a pretty good idea of what Google wants to see from a site to give it more prominence in the SERP's.
Over 150 SEO experts were surveyed by Moz and these were the results:

Image credit - Moz
Best Small business SEO strategy 
A small business SEO strategy will obviously need to be slightly different from a larger organisations, with more budget and dedicated staff.  This doesn't mean it can't be as effective though.  
A useful tip when starting out is, instead of targeting really competitive, highly trafficked search terms, try to go for the lower hanging fruit in the first instance.  
These longer tail search terms although generating less traffic may actually be better for conversions.  
For example, take the term "boys' bike".  Every month this search term 9.9k searches but if you were to optimise your page selling boys bikes to be more relevant for "Blue mongoose BMX" which generates less traffic, (110 monthly average searches) but is also less competitive, you may see better / faster results.  
As an added bonus, longer tail more specific search terms can often convert better than a broader term. Start with a longer tail strategy and you should start to see gains for broader terms naturally occur over time as you develop more authority.
Again, (and I cannot stress this enough…) the main point to remember is to be adding constant value for your potential customers with useful, informative content! 
Answer common questions about your products, add reviews and detailed specifications and you will start to see results.  Other sites will link into your content, which is a huge ranking factor for Google (another whole article is required to explain this SEO tactic!) and your authority and rankings will keep progressing!
How to run Paid adverts for my small business
Running paid ads can be a bit of a daunting task.  However, with a little help can get you well on your way to winning new customers from an online sources.  
Online platforms such as Google or Facebook will allow you to run paid targeted ads to an audience of potential customers.  The deal with paid ads is that you bid on certain search terms or serve your adverts at groups of people who are most likely to buy your products or services.  
Each click on a CPC (Cost-Per-Click) incurs a charge, whereas on a CPM (Cost-Per-Million) model you would pay a fee for every thousand times your advert is viewed.  These are referred to as impressions
Depending on your ad network or individual agreement with your publisher, you could also work on a CPA (Cost-Per-Acquisition) model or CPE (Cost-Per-Engagement) model.  

Image credit - VarunNagarajan
Make sure you understand exactly what payment model you're working to before you embark on any paid ad campaign.
Other paid campaigns work via adding a certain tracking pixel to your website.  
These pixels (in very basic terms) attach a small piece of tracking code to your website visitors so when they return to Facebook, Twitter or LinkedIn they'll be served your specific advert based on the page they viewed on your site.  
These campaigns can be very effective, as you are essentially serving your advert to a "warm" (ish) lead.  The lead is warm insomuch as they have already visited your site so they should be aware of your business or service before they are served your advert.  You can then begin to build up custom audiences to serve your product / service adverts to.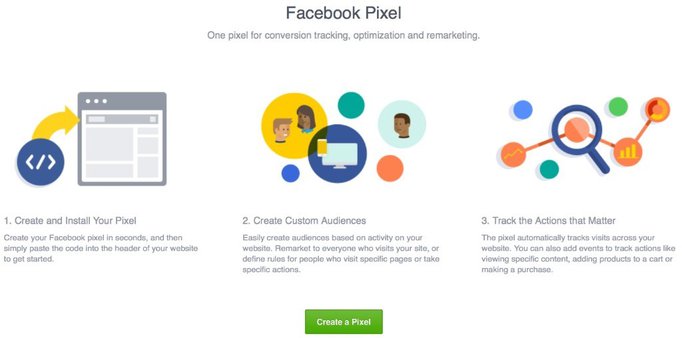 Imaged credit - Facebook
Keep in mind that, paid adverts can be great for generating traffic via the methods above, but you can very quickly use up a lot of budget.  Sometimes it pays to get a paid advertising expert to help you with these campaigns.  Even if it's only with the initial setup.  If you want to know more about alternative ways to finance marketing campaigns, register with ABF and we can definitely help you with this!
How to use Content marketing for my small business?
Another buzz term in world of digital marketing that you may have heard of is "content marketing".  
Fairly self-explanatory but just in case you weren't aware – Content marketing is the process of creating content that you feel will attract your ideal customers.  Blogging and guest blogging have a part to play in this process, along with social media. 
The trick with content marketing is to understand your customer before you begin creating content for them.  A great place to start is within your Google Analytics account.  
Try to map the most popular pages from your site and how much time is spent on them.  Understand what content themes drive inbound traffic, engagement and sales.  Then try to create as much of this content as you can.  Remember to segment your content based on theme, authority and targeted groups of search phrases or you could end up with more than one of your pages competing with another page on your site.  (We'll explain more about this in a future guide)
Another tip to remember when you're using content to generate sales, is - Forget about the sale!  Well, not completely, but what I mean is, try not to be overly…"salesy" in your approach.  
You're creating content that is useful, authoritative, and that serves a purpose.  You're writing to be helpful to your ideal customer and build a relationship.  This, although may not always generate a sale initially, will benefit you in the long run.  Your potential customers will view you as a trustworthy source of impartial information.  This is a huge hurdle cleared in the sales process and will help you build stronger customer / brand loyalty in the long run.
Marketing funnels & user journeys for small businesses 
The whole point of a marketing funnel is to map out the journey that your customers take, going from a potential customer who knows nothing about your business, all the way through to someone who has purchased your product or service and has become a customer.
Marketing funnels begin with raising awareness of your business.  How and when do you first become known to your potential customers?  From this point onward what attracts your potential customer to visit your business, engage with your content or sales copy, move through your sales process and complete a full sale of your product / service?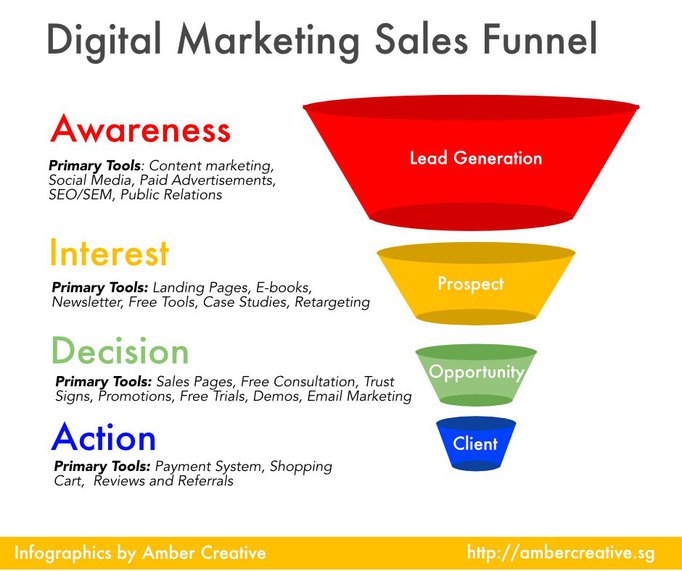 Image credit - Amber Creative
A great addition to the marketing funnel is the inclusion of tracking events / goals.  (more detail on this later) These can assist you in conjunction with your funnels in driving your visitors to the correct parts of your site and ensuring they move through your journey efficiently and smoothly.  When goals are not hit, or events not triggered this can give you an indication of a potential blockage to any part of your journey.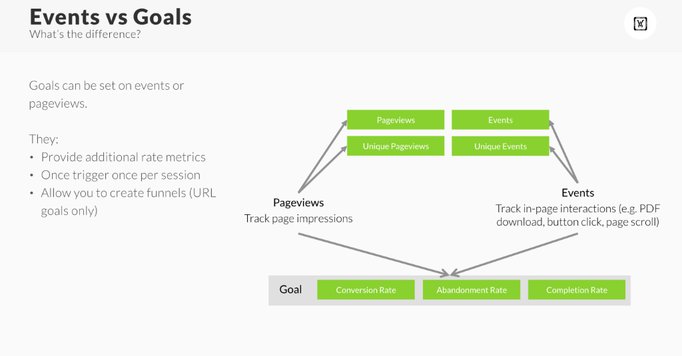 Image credit - Metric Mogul
The main benefit to visualising these funnels and tracking the process is to determine any blockages in the customer journey or sales process.  By looking at the data and reviewing your analytics goals you can make the necessary changes to your website and sales process and increase the amount of conversions achieved.
Social media strategy for small business
Small business social media strategy falls in the same bracket as your content marketing strategy.  You basically need to be providing content and updates that are valuable to your potential customers. 
Location is also important when it comes to social channels.  Where do your ideal customers like to congregate online?  Do they contribute to group conversations or channels?  Are they members of local pages or do they engage with other businesses like yours? Try not to dive straight into a pitch when contributing in these places.  Just be present and adding value wherever possible and your potential customers will note this.
Social channels tend to get better engagement at certain times in the day. If you can try to share your updates in line with these.  There are some great tools to help you manage this in the form of software such as Sprout social or Hootsuite.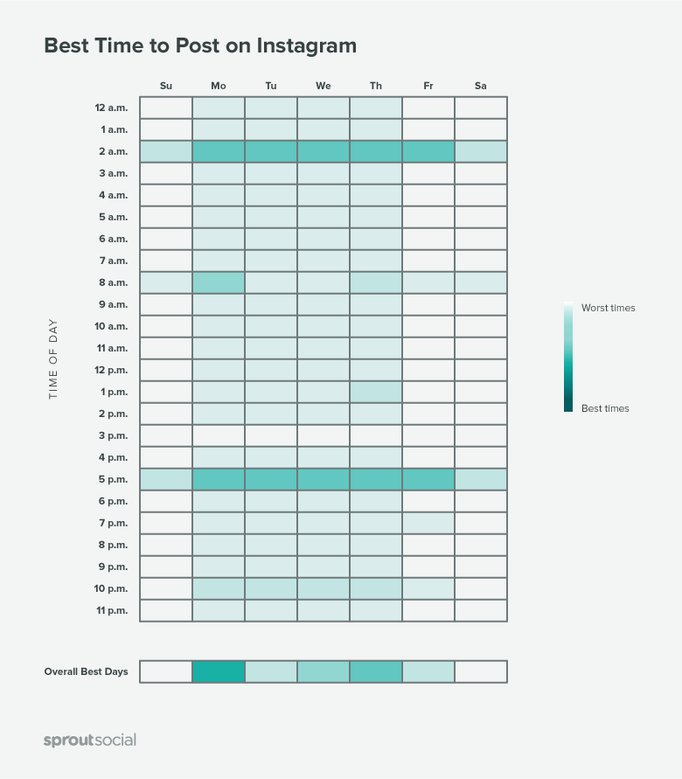 Image credit - Sprout Social
These tools give you the ability to schedule posts on all of your networks, reply to messages from any network all in one place and measure engagement statistics from easy to use admin panels.  
They can be a great way for the small business owner (who is required to wear many "business hats") to take back valuable man hours used in updating multiple social media accounts.  
The main point to remember with social strategy (as with content marketing) is the question: "am I adding value for my potential customers?"
Are paid adverts better than organic digital marketing? 
This really does depend on a few different factors and your individual circumstances.  Some of these being:
Am I selling a product or a service? / How long is your sales funnel?
Sometimes the sales process for a service can take longer than a physical product.  You need to look back over your previous analytics data to decide on whether paid adverts would be beneficial or not.  Perhaps they are well suited to generating a lead which could be classed as a conversion in your sales funnel.  However, you then have to convert your lead into an actual sale.
Pricing points.
Is the decision-making process a long one?  Does the cost of your service mean that it will take longer to convert into a sale?  As mentioned above, you may be better suited generating leads from your paid campaign which will then convert at a later date after a pitch or viewing your site content etc.  Usually, products with a minimal fixed price are easier to manage via a paid campaign than services or products in a higher price bracket.  Make sure you understand what classes as a conversion for you and your business.
Digital marketing Budgets
Organic digital marketing can be a cheaper option than paid advertising campaigns.  However, bear in mind that results will take longer to generate, and you need to be prepared to put in some man hours in exchange for paying up front.  A good point to remember though is that, although it may take longer to generate results from organic campaigns, these results should remain for a longer period of time in the form of authority & rankings from your site or social following via your various networks.  Paid advertising means instant returns but on the flip side of this, when you stop paying into the campaign, your results stop instantly.  Be sure to measure your ROI from your campaigns and work out exactly how much conversion has cost you to generate.
Google analytics for small businesses
For us, we can not recommend Google analytics enough.  For any business that sells products of services online, it should be your first port of call before, during and after any digital marketing campaign.  Understanding your website traffic and users is imperative to creating a high performing digital campaign.
If your site generates a lot of traffic and you use a CRM such as Salesforce, you can integrate this with your analytics account.  This is great as it gives you complete visibility over your users from start to finish.  By integrating your CRM with your analytics account you can plan Cross sell (sell your other products to your customers) and Upsell (higher value products & services) campaigns to your existing customers / clients.
The main benefit of using your GA account comes in the visibility it provides over your sales process.  It will allow you to monitor the effectiveness of your digital marketing campaigns and make adjustments to your processes where needed.
As we mentioned earlier, the importance of using event and goal tracking can't be overlooked when it comes to Google analytics.  Measuring your goal performance will give you a much clearer picture of how effective your user journey is, or if there is any aspect of your website that is stopping you converting visitors into sales.  This could be related to trust, design, content or process factors. Without goal and event tracking you'll never know.
Conversion rate optimisation for small business
Conversion rate optimisation tends to work best with larger data sets, i.e. if your site is already generating reasonably high levels of traffic.  If you find that you are generating traffic but not achieving a good enough rate of conversion, then CRO is definitely a tactic you should consider.  
There are a number of tools that you can use to put these plans into action.  These include Google Optimise or Hotjar.  
Google optimise is a great free tool linked to your analytics suite and allows you to run A/B tests (different layouts of your site, differences to your user journey etc) and multivariate tests (multiple different site flow combinations) and measure the results.  After running these campaigns, you will be able to see which options perform best and then make permanent changes to your site flow & layout.

Image credit - Online-Behaviour
Hotjar takes this process to a whole new level by allowing you to record your visitors click patterns and scrolling behaviour in real time, run polls to your visitors and get back some amazing insights about how your users interact with your website.  Go to their website and request a demo and get converting!
Hotjar offer free forever plans for low trafficked websites and paid plans if you have a site that achieves more pageviews.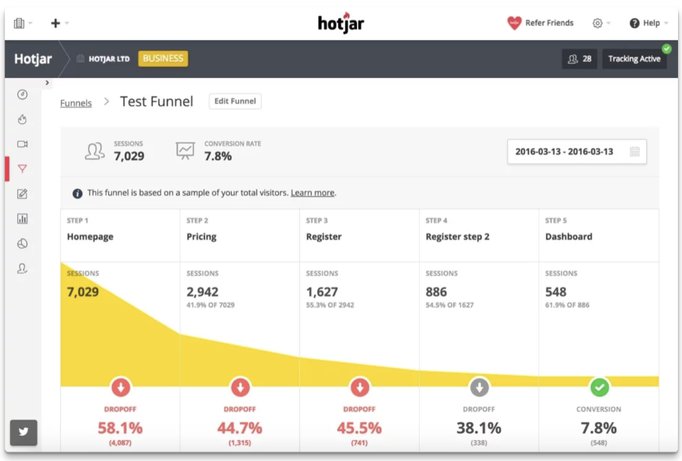 Image credit - Hotjar
Conclusion – 
So, we've discussed quite a few different tactics to digital marketing campaigns that can be used by sites of all traffic levels.  This is in no way a comprehensive guide to these different strategies and it's important that you look into each tactic and channel thoroughly before deciding if it is right for your business or not.
We hope that this has been a good introduction to the world of digital marketing for your business, and has provided an overview of the different strategies that a business can employ in order to generate more sales via online channels.  We'll be adding more business marketing tips as part of this series.  If you'd like to stay updated on the latest posts from ABF sign up for our newsletter and get notified when we drop future business advice via our blog.
As with many business growth strategies, they often require some form of investment.  This is not always financial and sometimes just requires an amount of your time.  However, if you want to embark on any strategy that requires a financial investment you can rest assured that Alternative Business Funding are here to help you choose the right funder to suit your needs. Search from over 140 different funders offering myriad of business finance products for businesses of any size!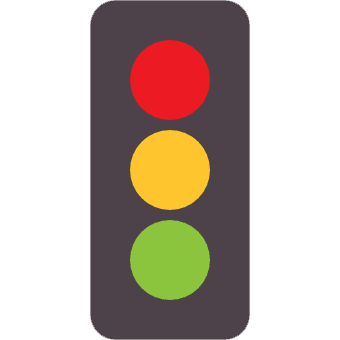 Find your business
funding